Amanda Batten – Chair of the Disabled Children's Partnership (DCP) and CEO of Contact – writes a blog thanking everyone that took part in the #CountDisabledChildrenIn campaign.  25 March 2022
We can't thank you all enough.
In Spring 2022, more than 1,250 parents, young people and other campaigners stood up for the rights of disabled and children and families. You told local politicians that disabled children and families deserve the same quality of life, and the same opportunities, as anyone else. You said that families with disabled children are entitled to good quality health and care services, like respite care and therapies – and that we will not be silent.
How did the campaign go?
The #CountDisabledChildrenIn campaign was planned with parent carers and members of the over 100 organisations that make-up the Disabled Children's Partnership. It called on local councils to use some of the extra funding that they received at the Chancellor's Autumn 2021 spending review to address the inequalities in disabled children's support.
Our research has exposed that years of cuts have left many disabled children and families unable to access health and care services, a situation that was made worse as services were further diverted by the pandemic. In fact, shockingly, our economic analysis estimated that there even before the pandemic there was a  £2.1 billion funding gap in disabled children's health and care, whilst our research found that nearly three quarters of disabled children saw their progress managing their conditions regress in the pandemic.
But together, we stood up and said this is not good enough. During the campaign it was brilliant to see:
More than 1,250 people email their local council leaders to demand better for disabled children locally. Through this, we managed to reach nearly every local authority in England.
Amazing parents and young people taking part in creative online campaigning actions, such as the brilliant George and Heather sharing the data for their local area on Twitter – getting over 3,000 views.
Mum and persuasive campaigner Vanessa pen a great blog on Mumsnet.
Campaigners share with us detailed replies from more than 20 local councils, with many acknowledging the backlogs and problems in services that campaigners had raised, and pledging to do more.
Several parliamentarians come out in support of the campaign, tweeting in support and writing to their local authorities.
Many parents going the extra mile for the campaign, emailing ward councillors, sharing their stories with local media, and sharing the movement in their communities.
We should be proud to have got the voices of disabled children and families heard with so many local politicians. We know that councils face a difficult task when allocating budgets, but together we presented an argument that investing the support families with disabled children deserve is not only the morally right thing to do – it also makes economic sense. Funding proper early intervention will allow more parent carers and young people to get more involved in society, get jobs or volunteer if they would like, and contribute to the economy.
We won't know the full impact of our work until later in the year, when the data on council budgets is made publicly available. Once this is ready, we'll make sure to let all of the people that campaign with us know what impact we had.
On to the next
With the SEND Green Paper on the horizon there will still be a lot of campaigning for us to do, fighting for disabled children's services to work better for families. The paper presents a crucial chance for us to fundamentally change the aggressive and confrontational system, and push for proper reform.
Now though, I just want to say another huge thanks to everyone that took the time to share their experiences and demand their local leaders do better. As shown through our recent campaign win on an innovation fund for disabled children's services, we know that as a broad movement of campaigners – made-up charities big and small, parents, young people, parent-led groups, royal colleges, and so many more – we can create change.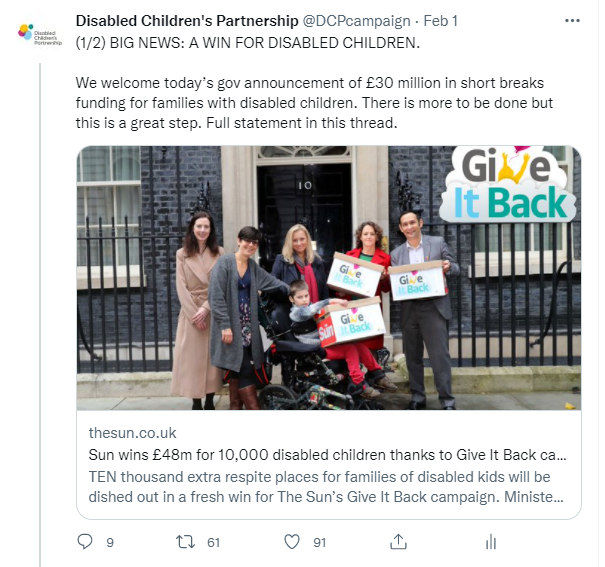 United, we have forced those in power to respect the rights of disabled young people and carers. Thank you to everyone that is a part of our movement. Let's keep pushing.
– Amanda
If you would like to get involved in our work and help create change for disabled children and families, sign-up to our campaign network.